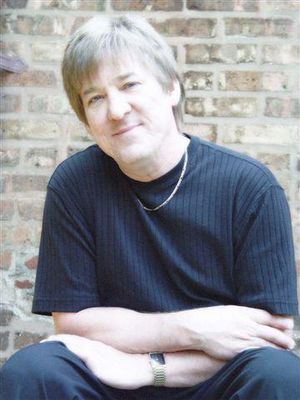 Hello, I'm STEVEN LEE BRANSON and I sing the GREATEST SONGS of the 60's, 70's and 80's.  I guess you could say I've been at that dream for the last 30 years. I have been singing everything from the pop rock of the sixties through the hard rock of the seventies and some great DANCE pop-new wave of the 80's and 90's.
When I started in the 70's with the band,
LAUREL R.J.,
we were playing a lot of great songs from that era, along with some great ORIGINAL songs that I wrote. We were fortunate to play most of the great rock clubs of the Chicago-land area like
Beginnings, Haymakers
, and
Monopoly
.
I was convinced at this early time and still hold the same conviction today: if you give people QUALITY music, they will not only have a great time but will remember your act and come back to enjoy a fun, entertaining evening again and again. It has always been the highest priority for me to be the best entertainer I could possibly be; not only with the songs that I sing but with a positive and energetic stage presence.
I was fortunate to meet some new friends who were musicians and together we started the 80's version of
COVER STORY
. This band was an awesome cover band, that also performed many great original songs that I wrote and we recorded together. Working with various booking agencies, we were very busy between 1980 thru 1985. We played many of the areas top rock clubs and some local festivals.
As the 90's arrived, I was involved in several bands for short periods, but two of those kept me pretty busy as the 90's progressed.
RECKLESS MAGGIE
, a Rod Stewart/Bryan Adams tribute, was a very active and successful band from 92' thru 95'.
CLASS X
, was a great classic rock band and we played clubs, parties, and festivals from 1997 thru 2001. After 2001, I became re-acquainted with old friends and as we began to work, this became a new version of my old band
COVER STORY
. I was again the lead vocalist and frontman for that group until 2007.
And now, as lead Vocalist of this new 80's Band –
RISKY BUSINESS
, we have been able to build a fine repertoire of songs that really ROCK, and that I really love to sing. We cover all the classics from Def Leopard, Bon Jovi, Romantics, Poison, Billy Idol, Don Henley, Hall & Oates, U2, and many, many more great 80's tunes – GOTTA LOVE IT!! And our Female Vocalist LIZ adds even more to our 80's Rock show with cool classics from Madonna, Pretenders, Blondie, Cindi Lauper, and more…….all together an Awesome 80's Show, right?....Believe it!!
With ALL of the music meant for dancing and having a great time, we always encourage everybody to "GET UP AND DANCE WITH US!" So don't forget your favorite 80's Dance moves

And as we cover the Chicago Club scene, and favorite "Dives", we hope to see you at our next show! We promise you a FANTASTIC evening of great music and dancing as we play & sing the greatest songs of the Greatest Decade - "THE 80'S"……we're RISKY BUSINESS – Totally, DUDE !